Iris Swedlund School & Public Library
"A library is not a luxury but one of the necessities of life." - Henry Ward Beecher
We couldn't agree more. Come visit our local library. A quiet place to study, relax, work or simply escape with a good book. It's fun, the old fashioned way.
The Iris Swedlund School & Public Library is located within the school library, and is available for public use during school hours. During the school hours, for security purposes, all visitors must check in at the main office located at door A. The public library is open on school days 8:00am-3:45pm and Wednesday evenings until 6:30pm. Afternoon visitors may enter through door B, on the north side of the building. A drop box is located near the north door for easy returns.
Our library has a diverse selection of current books, audio books, magazines, periodicals and computer availabilty. An additional feature is Library2Go Digital Media through the app Overdrive. Ebooks, audiobooks and video are all possible by signing up with the Velva Library. The staff will assist you with utilizing Overdrive.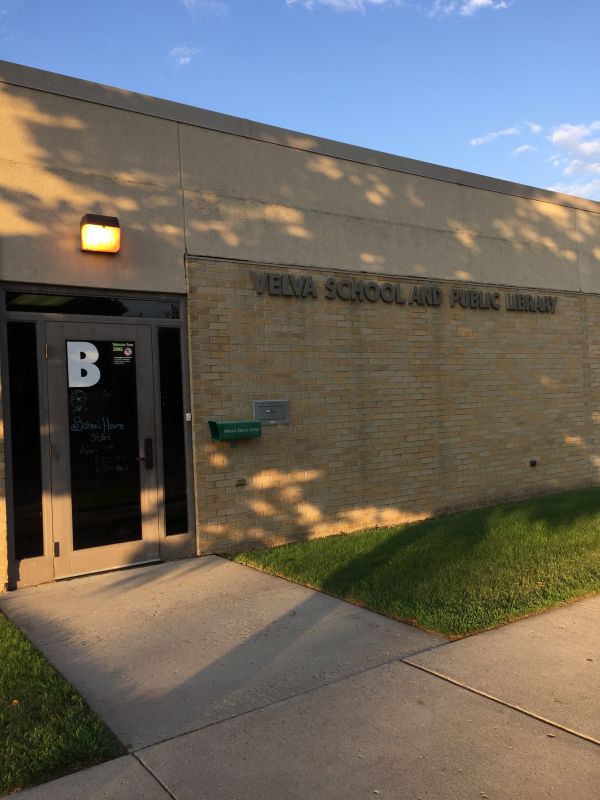 Frequently Asked Questions
How long does it take to get a library card?
Our librarian will be able to supply you with a new library card the same day you apply.
Are electronic books available?
Yes, through the Overdrive App
Contact Info
Locations
Velva Public School K-12
101 4th Street West
Velva , ND 57890